Page 3 - EMCAPP-Journal No. 11
P. 3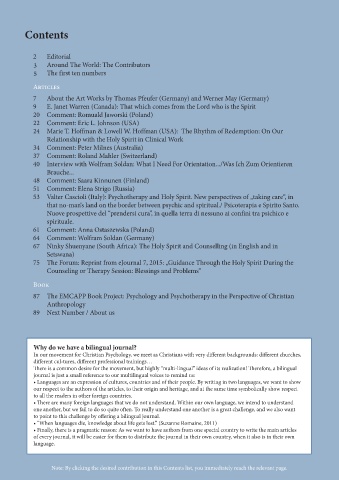 Contents



             2   Editorial
             2  3  Around The World: The Contributors
             4  5  The first ten numbers

             Articles
             7   About the Art Works by Thomas Pfeufer (Germany) and Werner May (Germany)
             9   E. Janet Warren (Canada): That which comes from the Lord who is the Spirit
             20  Comment: Romuald Jaworski (Poland)
             22  Comment: Eric L. Johnson (USA)
             24  Marie T. Hoffman & Lowell W. Hoffman (USA):  The Rhythm of Redemption: On Our
                 Relationship with the Holy Spirit in Clinical Work
             34  Comment: Peter Milnes (Australia)
             37  Comment: Roland Mahler (Switzerland)
             40  Interview with Wolfram Soldan: What I Need For Orientation.../Was Ich Zum Orientieren
                 Brauche...
             48  Comment: Saara Kinnunen (Finland)
             51  Comment: Elena Strigo (Russia)
             53  Valter Cascioli (Italy): Psychotherapy and Holy Spirit. New perspectives of "taking care", in
                 that no-man's land on the border between psychic and spiritual./ Psicoterapia e Spirito Santo.
                 Nuove prospettive del "prendersi cura", in quella terra di nessuno ai confini tra psichico e
                 spirituale.
             61  Comment: Anna Ostaszewska (Poland)
             64  Comment: Wolfram Soldan (Germany)
             67  Ninky Shuenyane (South Africa): The Holy Spirit and Counselling (in English and in
                 Setswana)
             75  The Forum: Reprint from eJournal 7, 2015: "Guidance Through the Holy Spirit During the
                 Counseling or Therapy Session: Blessings and Problems"

             Book

             87  The EMCAPP Book Project: Psychology and Psychotherapy in the Perspective of Christian
                 Anthropology
             89  Next Number / About us





             Why do we have a bilingual journal?
             In our movement for Christian Psychology, we meet as Christians with very different backgrounds: different churches,
             different cul-tures, different professional trainings…
             There is a common desire for the movement, but highly "multi-lingual" ideas of its realization! Therefore, a bilingual
             journal is just a small reference to our multilingual voices to remind us:
             • Languages are an expression of cultures, countries and of their people. By writing in two languages, we want to show
             our respect to the authors of the articles, to their origin and heritage, and at the same time symbolically show respect
             to all the readers in other foreign countries.
             • There are many foreign languages that we do not understand. Within our own language, we intend to understand
             one another, but we fail to do so quite often. To really understand one another is a great challenge, and we also want
             to point to this challenge by offering a bilingual journal.
             • "When languages die, knowledge about life gets lost." (Suzanne Romaine, 2011)
             • Finally, there is a pragmatic reason: As we want to have authors from one special country to write the main articles
             of every journal, it will be easier for them to distribute the journal in their own country, when it also is in their own
             language.




                   Note: By clicking the desired contribution in this Contents list, you immediately reach the relevant page.